Step-by-Step Guide to Shopping for a New Home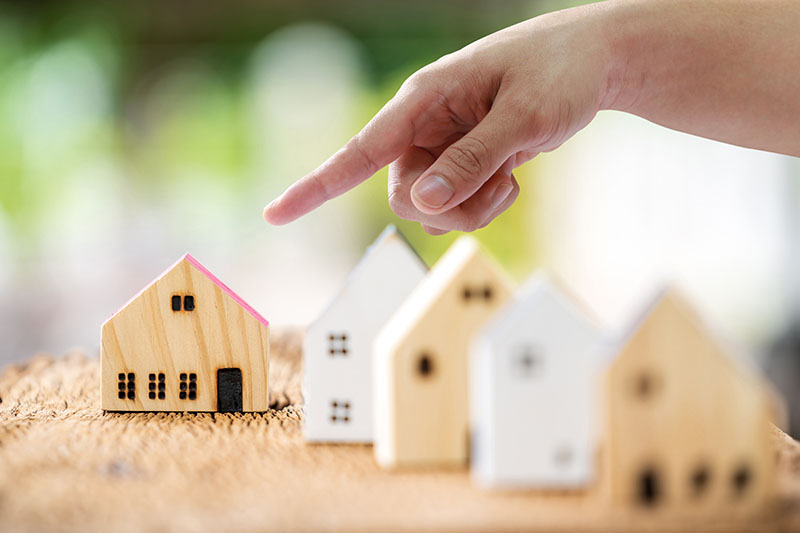 Guide to Shopping for a New Home
Whether this is your first or tenth home purchase, shopping for a new home is an exciting time. It can also be a stressful and lengthy process. This guide can help you stay on track and in your new home in no time.
Start Your Search
Before you go to your first open house or showing, ask yourself these questions to make sure that you are informed and ready to look at homes.
What is my budget? Use a mortgage calculator to decide how much you can afford each month and what that translates to for purchase price. You will need to pay property taxes and insurance as well as principal and interest toward your mortgage loan. Homeownership also comes with maintenance and repair costs.
What kind of home do I want? At a minimum, determine the number of bedrooms and bathrooms that you need so that you can look for the right size home. Other factors to consider are lot or land size, school district or neighborhood, exterior amenities like a fenced-in yard, interior amenities like appliances, and accessibility. Divide these features into three lists: must-have, must-avoid, and nice-to-have. Looking through online listings on a search platform like Zillow can help you see what is available.
Who can help me with my search? Working with a Realtor or real estate agent can be very helpful, especially for first-time homebuyers who are unfamiliar with the process. Ask around for referrals and recommendations for a good real estate professional from coworkers, neighbors, family, and friends.
Looking at Homes
Visiting homes for sale can be a lot of fun, particularly when you have a good idea of your budget, what you like (and don't like), and have the assistance of an agent. Visit open houses or set up private showing appointments. When visiting a potential property, look in every room and at every feature while you are there. Sellers understand that a home purchase is a big deal and are more than happy to have potential buyers go over their home with a keen, interested eye.
There are a few special circumstances that can result in a great deal for home buyers.
Short sale: When a homeowner needs to sell their home but cannot expect to get a high enough price to pay off their existing loan, they can look into doing a short sale. These types of purchases must meet strict requirements by the lender and can take more time to be approved, but often result in a great deal for the buyer. If the type of home or neighborhood you want is out of your budget, consider looking for a short sale.
Foreclosure: When a homeowner does not pay their mortgage, their lender will eventually take possession of their home through a process known as foreclosure. The lender does not want to keep the property, however, so they usually try to sell it for a great, low price. Foreclosure homes have sometimes been empty for months or even years, so get a thorough inspection to know what maintenance or repairs you may need to do.
Starter Home: If you dream home is out of your budget, consider looking for something smaller, with fewer luxury features, or in a different area. A starter home is a great place to begin life as a homeowner and are always in high demand when you are ready to sell and move into something larger.
Guide to Shopping for a New Home